Work With Us
Design a better way of living.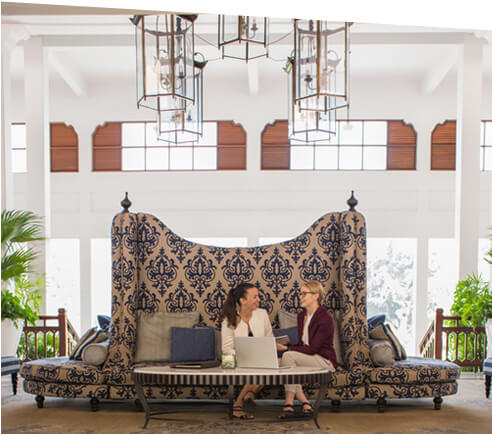 Fine hotels and restaurants are not purely functional places to sleep or eat. They offer an experience, capture a mood, a theme, or an era. Still, these experiences are only skin deep. What if you could affect your guests on a deeper level? Give them more reason to love you and keep coming back.
Whatever your aesthetic preference is, MINT can help you enhance your design with a quality of life that speaks volumes more about your business than simply sophisticated, industrial, or chic. Think sustainable, inspirational, and conscientious.
MINT Projects lets you show your customers that you care about their wellbeing, as much as you pride yourself in the services you offer.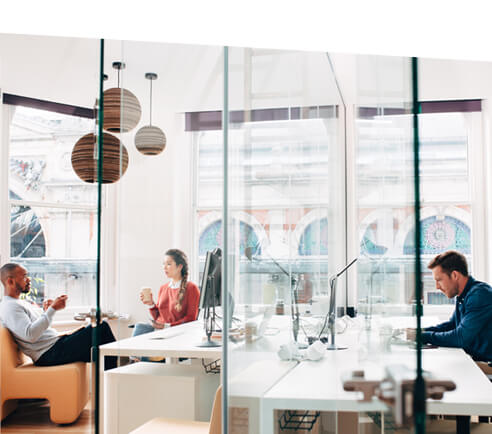 Healthy tenants and employees make for happy tenants and employees. When a property owner or employer demonstrates their commitment to environmental and personal well being, they naturally attract greater respect and higher retention rates. MINT Projects helps you walk your talk by reflecting your corporate values within your office or retail design.
Think about it. The majority of our time is spent at home or at work. If those environments are not conducive to a healthy lifestyle, it doesn't matter how many kale smoothies you drink, a big piece of that wellness puzzle is missing. Conscientious property owners and employers have the power to affect change. And that change begins with MINT.
Our Process
MINT simplifies the Design-Build process for you, while also providing greater control.

Discover
We begin with a discovery meeting to understand your vision. Working together we will establish all of your needs and desires.

Design
MINT will collaborate with a team of industry experts to create construction documents that reflect your specific needs, values, budget, and timeline.

Due Diligence: Preconstruction
MINT will define the scope of work involved for your project. An initial budget, risk analysis, and procurement lead time analysis will all be performed up front.
Your schedule is our top priority. MINT will create preliminary project schedules, as well as navigate the necessary channels on your behalf to mitigate any possible permitting issues.
With a firm commitment to our Safe Work Policy, MINT always completes a project safety analysis to ensure the protection of the construction team, our clients, and the general public.

Due Diligence: During Construction
MINT will manage cost control and perform daily schedule reviews in order to mitigate any unexpected surprises.
Project safety is of the utmost importance to us. Keeping our Safe Work Policy in full effect, MINT will perform regular safety reviews and reporting throughout the duration of the project.

Discuss
Once construction begins, MINT will continue to keep you up to date on timelines and deliverables during our regular client and project team meetings.

Delivery
MINT delivers peace of mind with a one-year builder warranty. You can now open your doors to your fresh MINT space.
Discover what MINT can do for you!
Contact us for an initial consultation.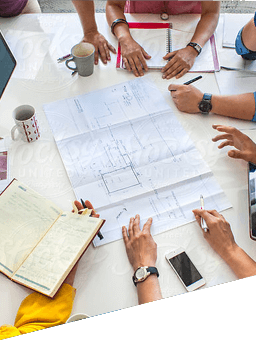 Design-Build
Do you value collaboration from the ground up, or are you looking for a more convenient way to tackle your turnkey project? MINT's Design-Build process streamlines your project from discovery to delivery.
As your single point of contact, MINT integrates design and construction, ensuring everyone is on the same team with a united vision. We collaborate with a wide network of architects, engineers and designers who share our corporate values. This allows us to find the right fit for your project's timeline, budget, and scope. MINT efficiently manages design, contracts, costs, and permits in a simplified process that improves communication, decreases expenses, and accelerates your schedule, while keeping you informed and in control.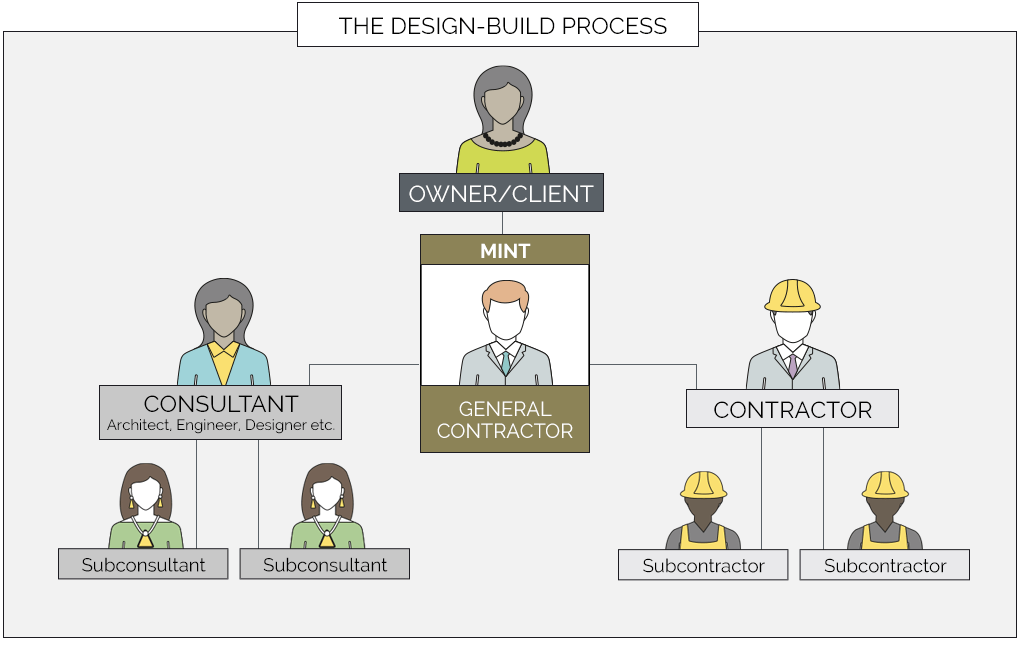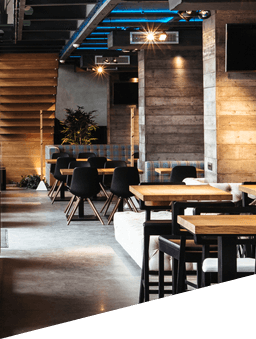 Design Bid Build
Once your design has been completed and your project is released for tender, MINT would welcome the opportunity to bid as your General Contractor. We will help bring your vision to life in a way that is safe, stylish, and sustainable, working with our like-minded network of trusted trades and suppliers.
MINT reduces your risk and responsibility by establishing a fixed contract price and by directly negotiating trade and supplier agreements. We will ensure all parties fulfill every detail and obligation, while keeping you well informed throughout the process with regular communication and real-time reporting. This process allows us to efficiently address any issues without delay, so your project runs as smoothly as possible.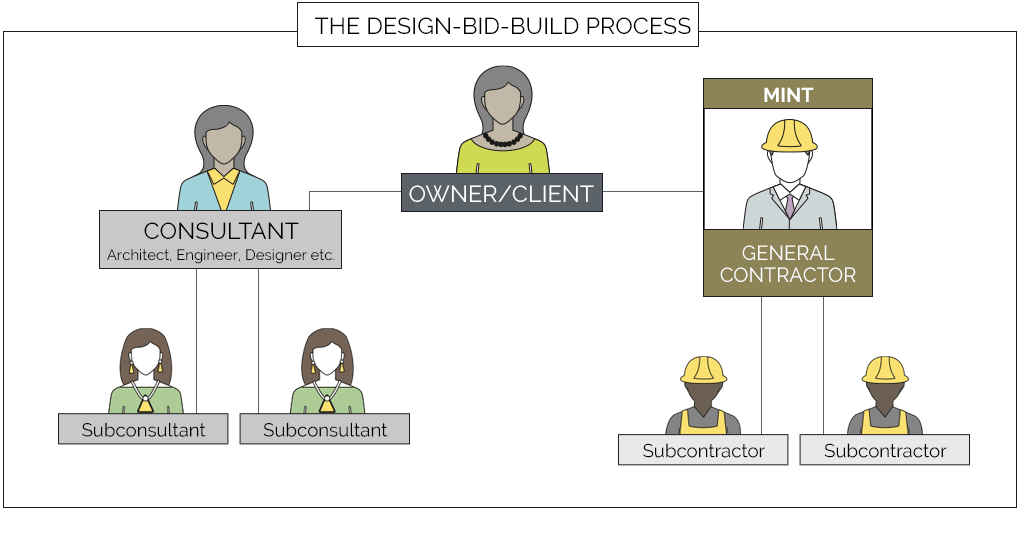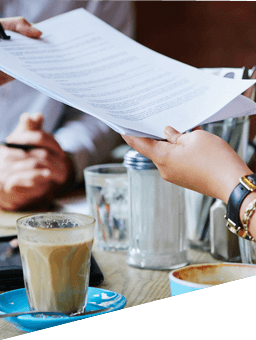 Construction Management
Working as your Construction Manager, MINT gives you better peace of mind with greater control of your budget and schedule. Once you have finalized your design, trust MINT to mitigate risk on your behalf as we efficiently manage your project from contracts to completion.
Acting as your agent, advisor and administrator, MINT will assist you with tendering and selecting the best professionals for your project. Relax as we administer the trade contracts to your selected subcontractors, and ensure accountability for a job well done. MINT's industry expertise and ability to effectively integrate construction and design provides us with more opportunities to fast-track your schedule, with the potential to save time and money.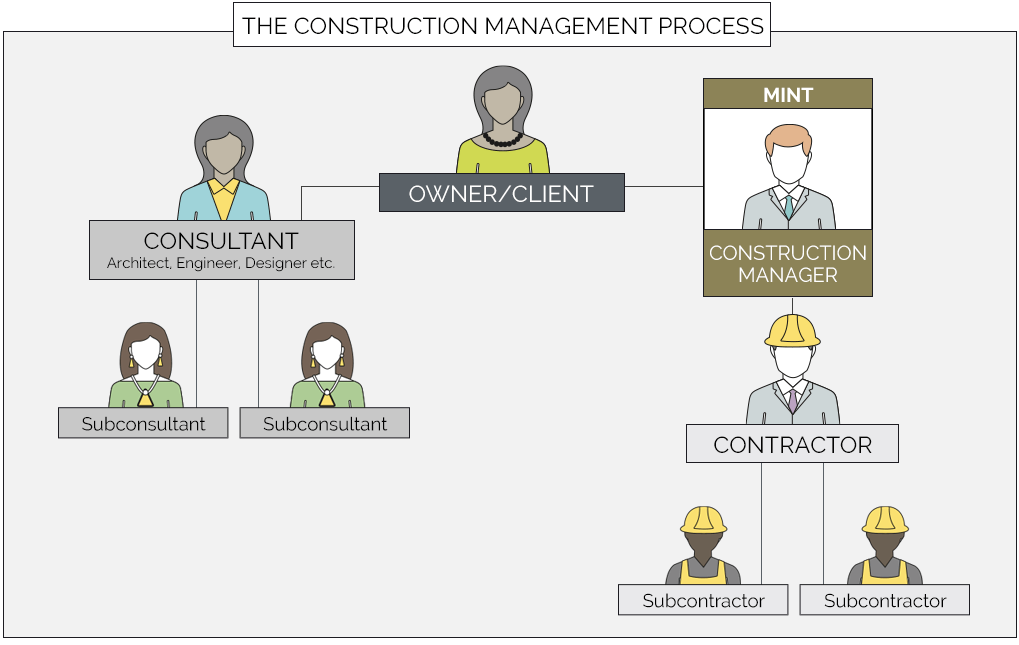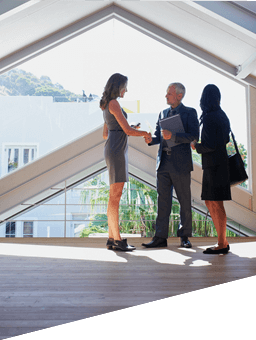 Facility Maintenance
If your space needs a healthy boost, a refreshing finish, or you just need to bring it back up to code, MINT Projects will help you discover the true meaning of efficiency.
Whether you want to install more energy efficient lighting, or are looking to capture natural light through bigger windows or solar panels, we have you covered. Mint reduces waste while improving your space, working in ways that keep your facility running as smooth as possible during the transition.
Let MINT bring your space to life.
Contact us to find out how.